Talent Spot provides effective, prompt and accurate recruiting services. Our consultants have over 10 years of service experiences. We provide comprehensive search channels, scientific assessment measures, and pool of extensive and rich talents to find the most matching talents for companies and fill the vacancies in a timely manner. We are results-oriented and seeking for high performance, our services can help you find the best talent to achieve your core business.
Case Study
Our Positions Focus
| Type | Position |
| --- | --- |
| Front-End | Sales, Business Development, Key Account, Channel Management, Marketing, Consultants, etc. |
| Operations & Supporting | HR, Finance/Accounting, Supply Chain, Customer Service, Project Managers, etc. |
| Technical & Engineering | Engineering Managers, CTOs, Program Managers, IT Managers, R&D Heads, etc. |
Our Search Methodology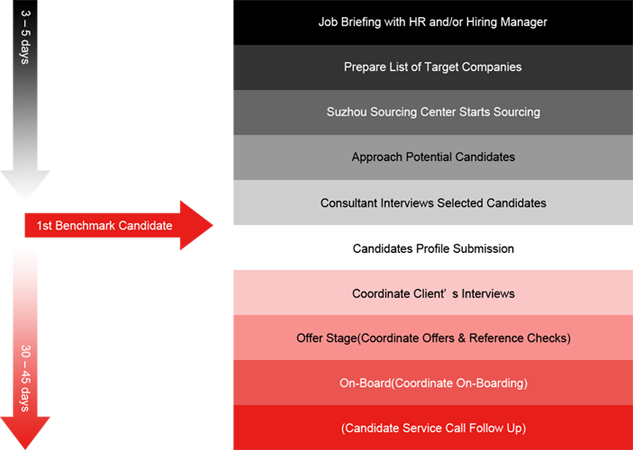 Our Sourcing Channel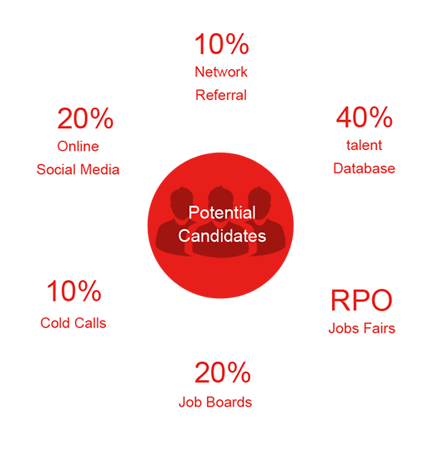 Core Management Team
Chary Zhu CEO

Chary is one of the 1st senior experts in China`s HR outsourcing field. He founded Talent-Spot in 2009. Before Talent-Spot, he had served as Outsourcing Director with Kelly Service for nearly 8 years. He got his master degree in computer science from Northwestern Polytechnical University and his undergraduate degree in automation control from BUAA.
Elmer Goh VP, Recruitment

Elmer is the VP for recruitment and he is responsible for Recruitment Process Outsourcing (RPO), On-Site Managed Recruitment, Executive Search & Selection. He has helped clients customize solutions across various business sectors, such as automotive, industrial, manufacturing, pharmaceutical, healthcare, hospitality and retail.
Jason Wang VP, Recruitment

Jason has over two decades` experience in enterprise human resources industry. He has served as General Manager China with internationally renowned human resources companies and also worked for super state-owned enterprises, world famous communications companies and the wholly-owned U.S. manufacturing enterprises where he was responsible for
Helen Huang Associate Director

Helen Huang has over 15 years working experience with 10+ years in executive search which includes 7+ years management experience. Major in industry design, deep understanding of industrial process and abundant industry knowledge. Helen has established reputation by good operation and project management skills.
Serge Ajamian Associate Director

Serge is now part of the Talent Spot core management team member. He having worked & lived over 10 years in the Middle East, 8 years in North America & 7 years in East Asia, Serge comes from over 10 years in Strategic business development experience across Greater China and emerging markets in APAC with a focus on Recruitment, HRO, and BPO.
Richard Pang Senior BD Manager

Richard has 10+ years experience in the HR industry with a focus on contract staffing, HR Outsourcing, and Shared Service Center. Having joined Talent Spot since 2013, Richard has been integral part of the firm`s development in this field with a wealth of technical knowledge and experience.
Matthew Kong Senior BD Manager

Matthew has worked and lived in Australia for more than 12 years. Relocated to China and obtained 6 years experience in HR industry, expert with China labor law, especially experienced with helping clients who are new to China Market.
Daisy Zhang Associate Director, Outsourcing

Before joining Talent-Spot , Daisy stared her career as a HR consultant with Kelly Services for 5 years. Daisy has been engaged in compensation and benefits section of 3rd party HR outsourcing filed for more than 10 years.
Celine Zhang Operation Manager, Outsourcing

She has total 18 years working experience in HR field, including 10 years 3rd party HR outsourcing firm experience. Before Joining Talent-spot, Celine worked in another HR outsourcing firm which is Fortune 500 list of America`s largest companies.
Lily Chen Associate Director, Outsourcing

Before joining Talent-Spot, Lily worked in Kelly Services as the 3rd party HR outsourcing consultant, and worked in Maersk Line, CHIC Group, and BP China as the in house HR. She has total 14 years working experience in HR field, and 10 years focus on compensation and benefits.
Matthew Loo Singapore Branch Manager

Matthew Loo is a seasoned leader, mentor & human resources professional. Matthew Loo is now the Managing Consultant with Talent Spot Group in Singapore. Matthew has almost 5 years of recruitment experience partnering with c-suite, senior-level executive, corporate leaders to help defining their personal brand and creating content that differentiates unique skills.
Tony Chan Hong Kong Branch Manager

Tony is an experienced headhunter. With more than 10 years recruitment consulting experience, he specialized in Property, Real Estate, Construction and Finance sectors across Hong Kong, China and Europe market. Strong at both Retained and Contingency search assisgnment in direct-search methodology. He obtained his Bachelor Degree in Business
Seven Sun Chengdu Branch Manager

Seven is a Branch Manager with 11 years experience in the Recruitment Industry, which including 5 years management experience. Prior to joining the recruitment industry, Seven has 2 years working experience as internal HR role within large MNC - this experience provided Seven with a deep insight into the Recruitment Industry.
Coco Zhang Team Leader, Executive Search

Coco has over 10 years of work experience within executive search. Her specialty field are IT & Internet, FMCG & Retail, healthcare and service. Coco worked as a team leader at Talent-Spot for several years. Before she join Talent-Spot, Coco has worked for world famous consulting companies.
Vivian Pan Suzhou Branch Manager

Vivian has 7 plus years' working experience within executive search. Her skills in managing complex recruitment assignments bring benefits to both executives and clients. Vivian takes a role as an assistant



Our A.P.A.C. Reach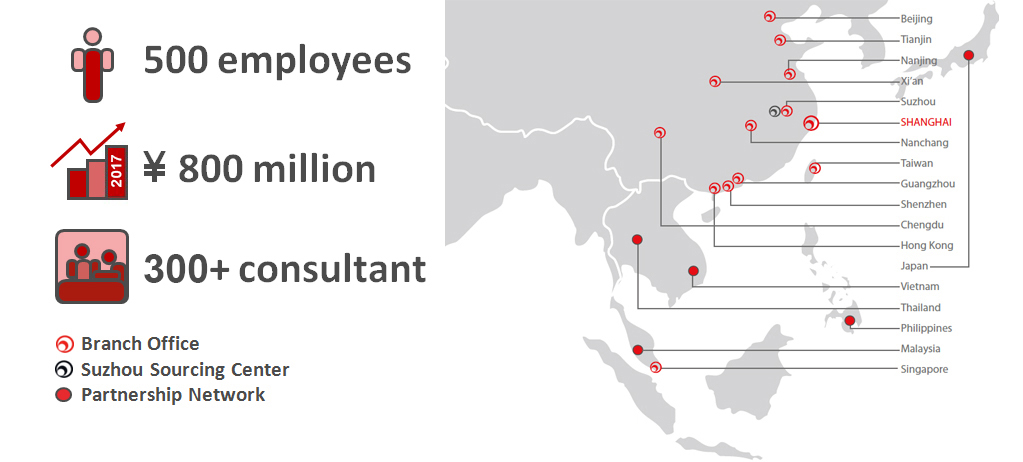 Clients and Industries
Manufacture
Automotive
Retail
Finance & Service
Internet
IT & Telecom
Pharm & Medical Device
China

T: +86-150-2197-7046
Hua Min Empire international Plaza
Unit 12J, No. 726 West Yan'An Road
Changning District, Shanghai 200050
Singapore

T:+65 6812 7853
6 Raffles Quay,
#16-01
Singapore 048580
Hong Kong

T: +852 3975 1145
Level 43, AIA Tower
183 Electric Road, North Point
Hong Kong